25th Reunion
The 25th Reunion took place on September 8, 2001 (Saturday night) at the Hyatt Downtown Milwaukee. On Friday there was an informal get together at Tosa Fest.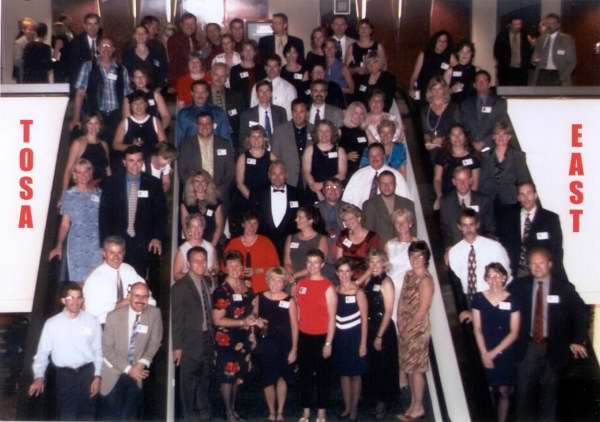 Group picture from the event. Click here or on the picture for a full sized view.
Event Pictures
All of the pictures were supplied by Gene Hanson, Mary Kay Luedke, and Anne Feirstein. We know there are more pictures, so if you have any of this event that you'd wish to share, please contact us.
Attendees
The list of attendees is not even close to being official. It is strictly relying on the memory of your webmaster and the people he can identify in the pictures. If you attended the 25th, drop a note to Gene Hanson so he can update the list.
Anne Feirstein
Annette Gehm
Barb Aspinwall
Barb Schroeder
Mary Beth Rise
Bill Nawrocki
Brian Schaff
Cheri Gilleski
Dave Carlson
Dawn Hohlfeld
Debbie Hetzel
Dennis Noonan
Eileen Keyes
Gene Hanson
George Karioris
Gerry Abshire
Harry Profio
Holly Beyer
Janice Zempel
Janis Gaulke
Jean Crabtree
Jerry Roche
Jill Yentz
Joe Zuba
John Wilkinson
Jon Levenhagen
Judy Grimm
Judy Stockinger
Kathy Crowley
Kathy Reinke
Kelly Vetter
Kim Peterson
Lee Braem
Louise Flick
Mark Borkowski
Mark Rasmussen
Mary Kay Luedke
Mary Mirenda
Mary Wittenberg
Matthew Wagner
Mike Day
Mike Rose
Nan Larson
Parry Cartier
Pat Hunt
Paul Eisenhauer
Rob Lennon
Roger Voltz
Rosi Kijak
Sandy Lebesch
Scott Peterson
Sharon Kilmer
Sue Gagen
Sue Nicholas
Sue Sievert
Susan Kwak
Terry Monfre
Tim Finley
Tom Boyle
Tom Taylor
Tom Witte
Tony Rondinelli