40th Reunion Booklet
We prepared a booklet from responses from the 40th Reunion Questionnaire. 186 of our classmates filled out a questionnaire and as a result we produced a 240 page booklet from those responses.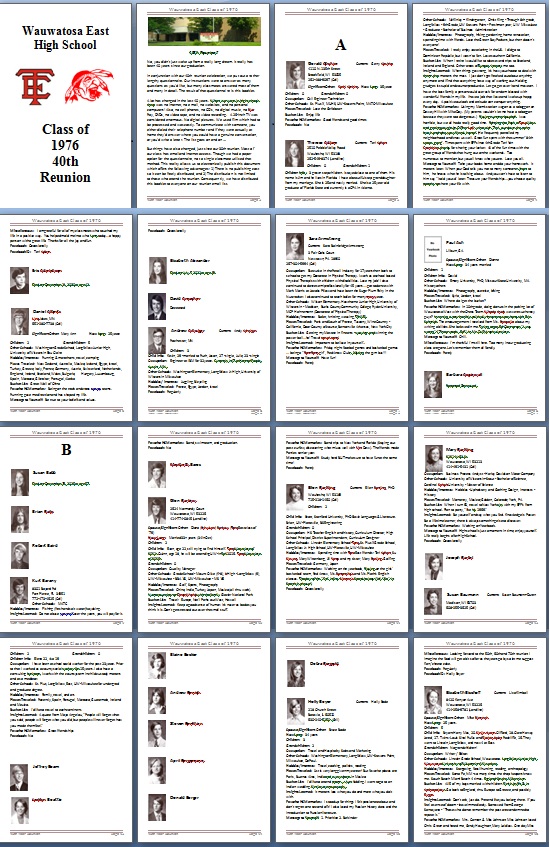 The above image give you an idea of what the resulting booklet pages looked like. But you might notice you cannot see the actual details. Because of privacy concerns, you cannot download a copy of this booklet from the website because it is simply not on the website. The only way to get a copy of the booklet is via email and for that, you have to have registered your email and belong to our Google Group. Contact us if you're a classmate and would like a copy. However, if you click here, you can see the start and end of the booklet which do not contain private information.
The Questions We Asked
What is your name now including your preferred first name?
What is your complete mailing address? If you don't want your mailing address published, then please just enter your current city and state.
What is your phone number?
If you are married or have a significant other, what is his/her name?
How long have you been married or been with your significant other?
How many children?
Enter any information you'd like to share about your children. Names, ages, college, married, etc.
How many grandchildren?
Occupation(s)?
What schools did you attend besides Tosa East? Include grade school(s), junior high(s), college(s).
Hobbies / Interests:
Significant places you have traveled:
Anything left on your Bucket List you'd like to share?
Insights you've learned over the last 40 years:
What are some of your favorite high school memories?
If you could send a message to yourself before starting high school, what would it be?
If there is anything else you'd like to add, enter it here: