30th Reunion Tosa East Tour
The 30th Reunion took place on August 12, 2006 (Saturday night) at the
In conjunction with the 30th Reunion, the organizers set up a wonderful tour of the old stomping grounds. The tour was on August 12th during the morning. The highlight of this tour was in the Commons where those participating had group photos taken by the old Tosa East mascot which was going to be painted over a few days after.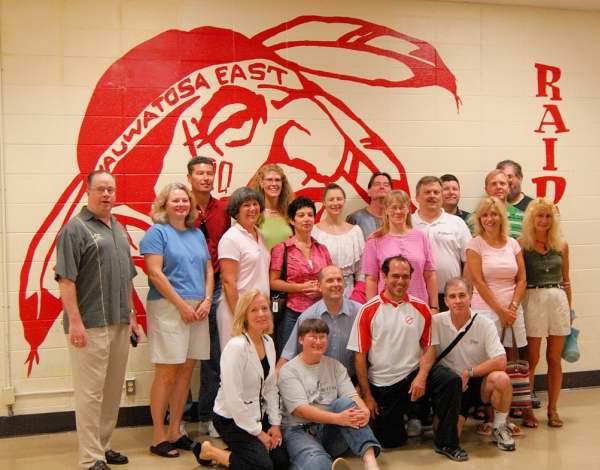 Group picture from the tour. Click here or on the picture for a full sized view. Standing, left to right: Pat Downey, Annette Gehm, Jim Proft, Ann Wagner, Juliana Spring, Linda Hasselberger, Barb Schroeder, Mike Frayer, Mary Hillstrom, Scott Peterson, Dick Manhardt, Barb Weishaar, Chuck Perry, Bill Broadberry, Barb Aspinwall. Kneeling/sitting: Danita Cole, Katie Hofstede, Frank Powell, Dennis Noonan, Gene Hanson.
Tosa East Tour Pictures
We know there are more pictures, so if you have any of this event that you'd wish to share, please contact us.