Group Email List - Tosaeast1976
2018 Archive
The postings below are the messages sent to our class during 2018.
Click here to see the 2022 messages.
Click here to see the 2020-21 messages.
Click here to see the 2019 messages.
Click here to see the 2017 messages.
Click here to see the 2016 messages.

---
Happy 60th Birthday / Summerfest 2018 / Girls Night Out
06/16/2018
Happy Birthday, Class of '76!
Whether we like it or not, our classmates will soon or have already celebrated their 60th birthdays.

I've been using this image (both on the website and on our Facebook page) as a reminder to everyone that age is just a state of mind.
Tosa East Girls Night Out - June 28
Jean Kobin (Crabtree) is hosting a girls night out at her home in Cedarburg on Thursday, June 28th.

Time: 6:00-9:00/10:00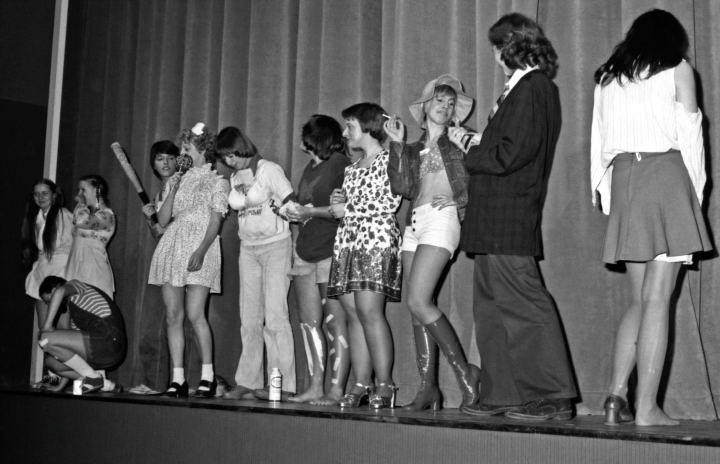 The picture above is from the Spring 1976 Talent Show. This was part of a skit put on by members of Red Arrow.
This will be outdoors, weather permitting. Bring a drink or appetizer.

RSVP to Jean Crabtree (Kobin) or Debbie Hetzel (Hanson) for additional details.
Summerfest 2018

Summerfest starts in less than 2 weeks! It has been a tradition over the last several years that we have an "unofficial" reunion sometime during the festival. We will having one on Friday, June 29th hosted by me and Debbie. We plan on being there fairly late so if you're working that day, stop out later!

Information for that day is located on our website at:
www.tosaeast1976.com/unofficial/upcoming.htm
You do not have to RSVP. This event is set and you can decide at the last moment. If you do come you probably should print out the map of the Summerfest grounds (if you're not familiar) as it shows the 3 meeting locations during the day. But more important is to have me or Debbie's cell phone. You can call or text us if you have difficulty finding us.
Gene Hanson 262-269-xxxx
Debbie Hetzel 920-723-xxxx
But we realize not everyone can make that date. There is no reason why we can't do more than one day if there's enough interest. Summerfest goes on for 10 days, but the two weekends are probably preferable. Simply send me an email at
genohanson@aol.com
if have a preference or a date you already know when you'd be there.
Class Obituaries

The very sad aspect of keeping you all informed is that from time to time I send out obituaries.

I hope everyone has noticed that you haven't heard from me in a while so from that aspect that makes me happy. But I need to point out that I don't spend time pouring over recent obituaries. When I do report a death it's almost always because fellow classmates have given me the heads up. So if you have any word that one of our classmates or faculty have passed away, please send me an email so I can then inform the entire class.

Gene Hanson
---
Happy New Year Class of '76
12/31/2018
Tosa East Class of 76:
Debbie and I hope everyone had a Merry Christmas and we now wish to extend to our entire class a very Happy New Year!
You haven't heard from me in a while and that's mostly a good thing because one of the saddest things I do is inform the class when I get news that a classmate or one of our faculty have passed away. The only report I received during all of 2018 was about Gloria Garcia who passed away one year ago today (Dec. 31, 2017) which I did not forward here because I did not find out until a month after her funeral.
Here are some of the year's highlights, almost all of this was posted on our class Facebook page. I thought I'd share some of the postings as not all of our class have Facebook accounts or are active on that site.

By the end of this 2018, most of our class turned 60. We sure hope for everyone it doesn't feel like we're that old!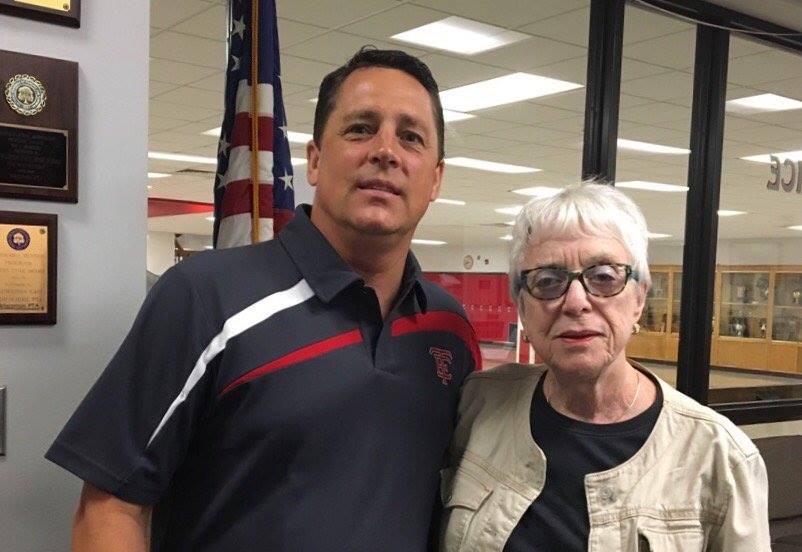 January 17 - Miss Bertorello! She's still with us and I picked up this picture of her and current Principal Nick Hughes from the Tosa East website when she visited the school. She retired from East after the 97-98 school year. The posting generated a lot of discussion as she had a big influence on many of our classmates.

March 10 - Our classmate Bob Rech was interviewed for the PBS program Around the Corner with John McGivern for his episode on Brookfield & Elm Grove. If you don't want to watch the entire video (the link is below), go to 13:45 when his interview begins.
Link to the Around The Corner segment on Youtube -
Click here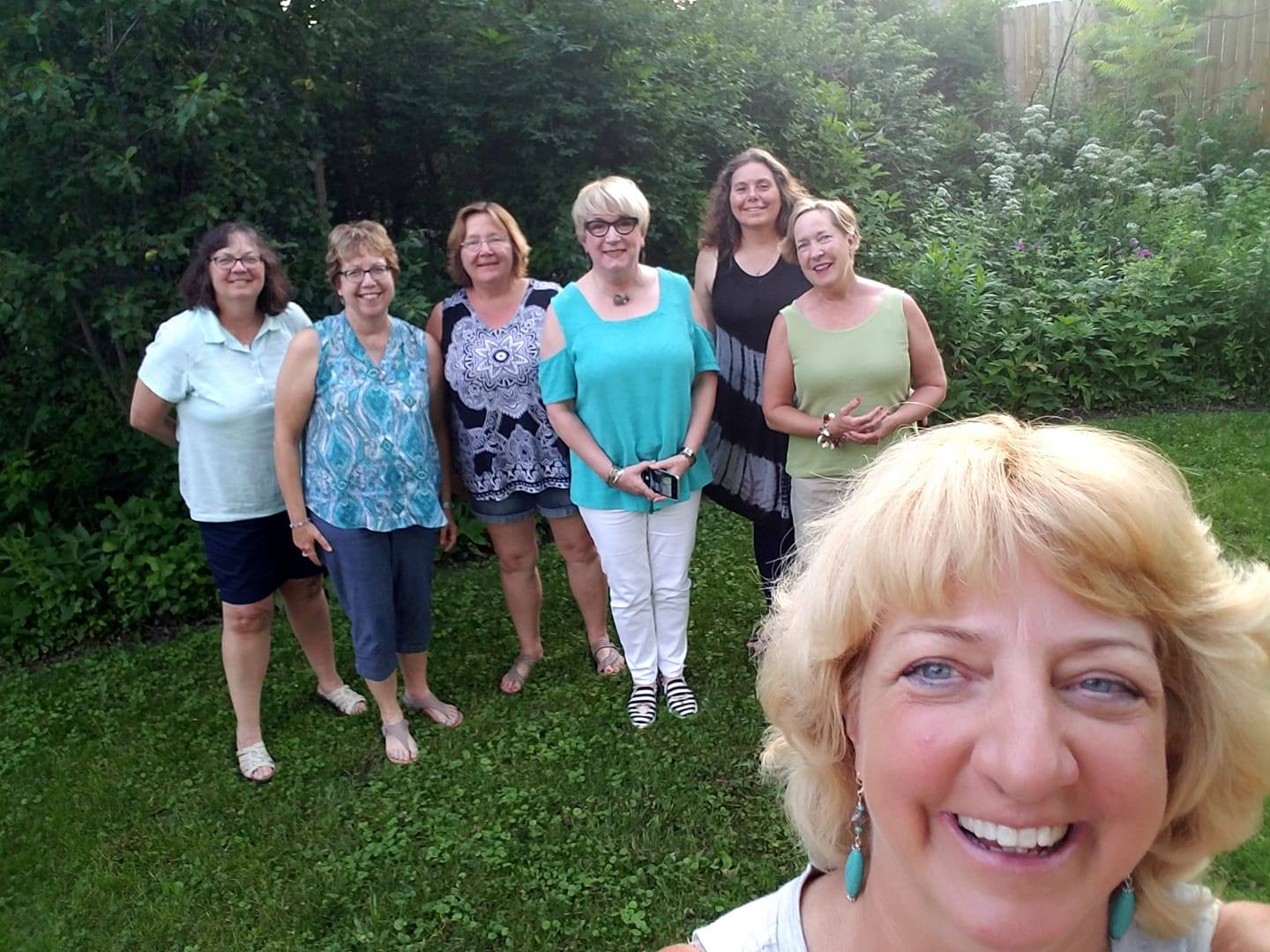 June 28 - Girl's Night Out. Jean Kobin (Crabtree) hosted a girls night out at her home in Cedarburg in June and Debbie Hanson (Hetzel) took this photo of the attendees. From left: Cindy Wagner, Tracey Schutz (Flemming), Heidi Guell (Fenzel), Carla Durand, Kim Sudar (Peterson), Jean Kobin (Crabtree), Debbie Hanson (Hetzel).
July - The unofficial reunion at Summerfest was almost a complete bust and probably because of the outrageously hot weather - about 95 degrees. I thought we always headed to the lakefront to cool off? No such luck. We came back the following Sunday where it rained! In the pictures above: Left - Mary Fox and Debbie Hetzel. Right - Debbie Hetzel, John Lichty, and Gene Hanson.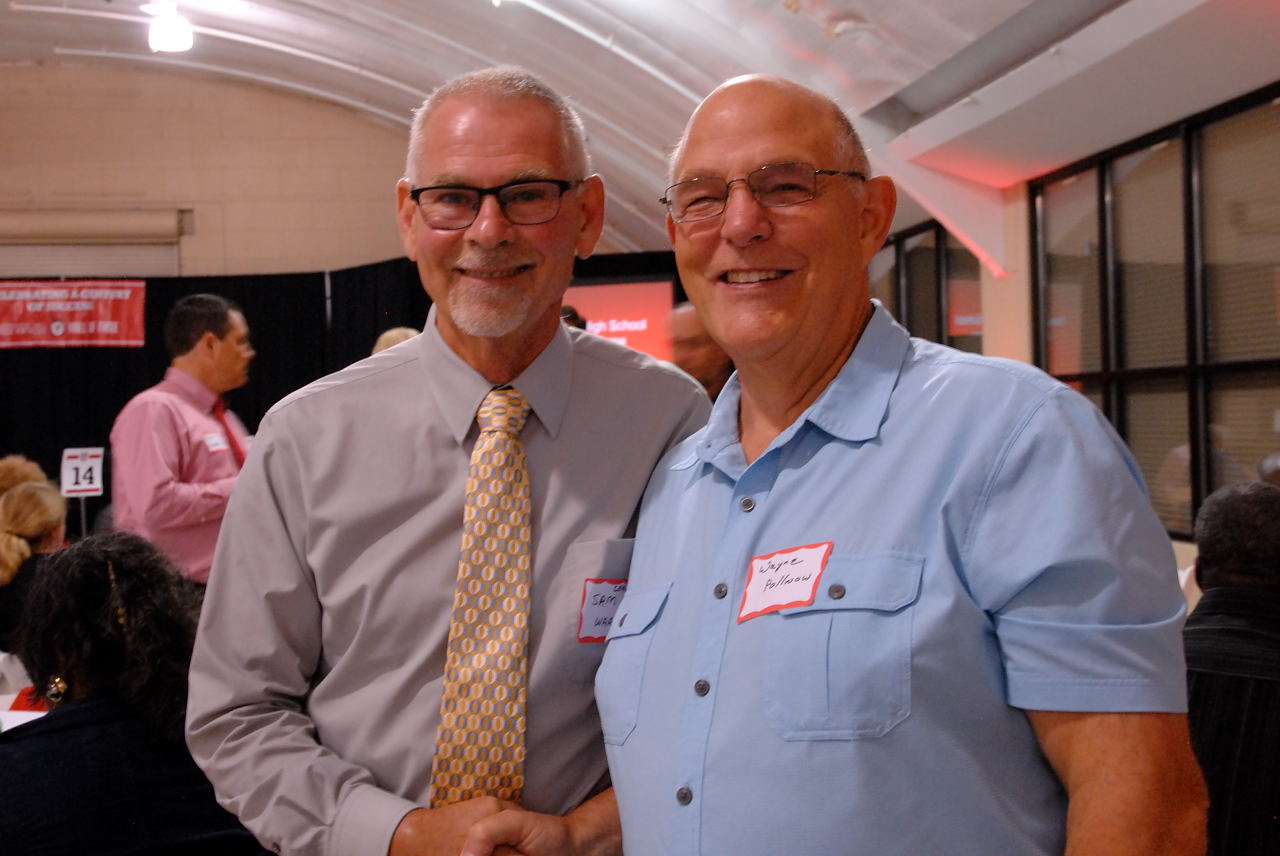 July 22 - There was a second induction ceremony for the Tosa East Athletic Hall of Fame held at the Hart Park Pavilion (the venue of our 30th and 40th reunions and our Post Prom's during school). None of our class was inducted at this time, but two of our coaches were: Sam Walla and Wayne Pollnow (seen in the picture above). You can see pictures from that event on our class website at:

Again, everyone have a very Happy New Year!
Gene Hanson