45th Reunion Videos and Group Pictures
The 45th Reunion took place on September 18, 2021 (Saturday afternoon and evening) at Hoyt Park in Picnic Area 2. 27 classmates attended with 12 plus ones and 2 from other classes.
A group picture was taken to memorialize the classmates who attended.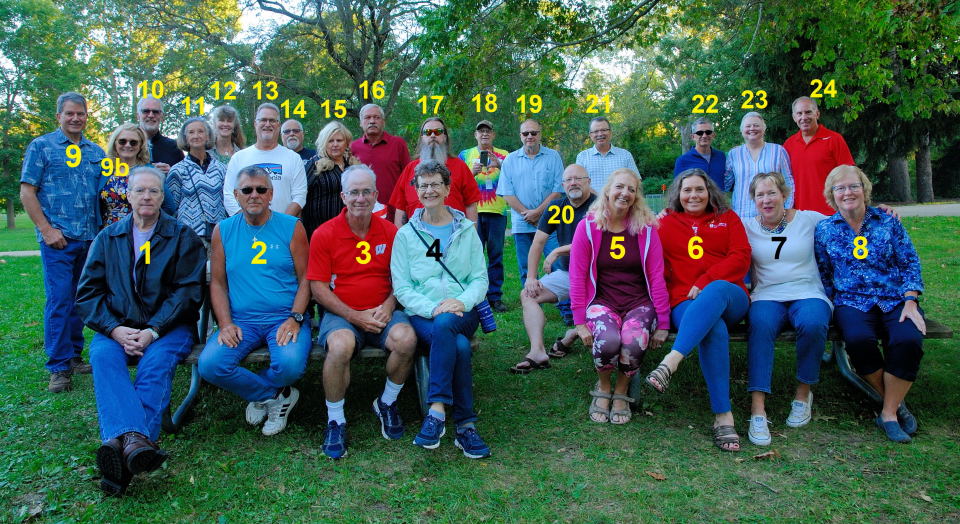 1. John Levenhagen
2. Greg Fox
3. Gene Hanson
4. Abby Forbes
5. Debbie Hetzel
6. Kim Peterson
7. Jean Crabtree
8. Gayle Urban

9. Parry Cartier
9b. Kathleen Cartier
10. Tony Rondinelli
11. Sue Nicholas
12. Juliana Spring
13. Gerry Abshire
14. Paul (Ike) Eisenhauer
15. Mary Kay Luedke
16. Bill Nawrocki

17. Bill Hanson
18. John Rogge
19. Mike Day
20. Tom Witte
21. John Lichty
22. Harry Profio
23. Annette Gehm
24. George Karioris
Not pictured because they arrived later: Dawn Hohlfeld, Mike Lynch, and Nancy Doberstein.
The video above was taken by Gene Hanson.
Reunion Group Pictures
Here are the various group pictures and some of the assembling process. It wasn't exactly herding cats, but close.
All the pictures above here taken by Gene hanson. He used the old style selfie of a camera on tripod with a timer.