In Memoriam - Teacher / Coach John Richmond
By Gene Hanson
With sadness I must report to our class the passing of our Teacher & Coach John Richmond. He died on March 13th of heart failure at age 90.


Services for Richmond will be on Monday, March 20th at Becker-Ritter Funeral Home in Brookfield (Lilly & North Ave). Visitation will be 4-6pm with a service at 6pm followed by refreshments.
Teacher
Many will remember John Richmond as a history teacher with the deep voice. He graduated from Pewaukee High School in 1944 and went on to attend UW Madison in 1944-45. He served in US Army, 82nd Airborne Division as paratrooper, honorably discharged in December, 1946. After that, he went to Milwaukee State Teachers College in 1947-48. He received a BA with a major in history from Carroll College in 1951. He got his MS in Physical Education / Education from UW-Madison in 1953.
He came to Tosa East in 1969 and retired from teaching in 1991.
Coach
But for anyone of us who had the privilege of being on the football or track teams, Richmond will be remembered as Coach. He was a great. When he came to East in 1969 he became the football Head Coach and the following year the Head Track Coach until 1972. That was his most successful year winning East's first football title since 1939 and winning the State Class A Track & Field Championship as well as sweeping conference relays, conference outdoor, regional and sectional meets. After that year he was an assistant Track Coach, in charge of the sprinters. Though he retired from teaching in '91, he continued to coach until '95. He was inducted into the Wisconsin Football Coaches Association Hall of Fame in 1996.
He was a great athlete in his own right. Born in Norfolk, Virginia in 1926, he participated in football, basketball and track in high school. State Champion and Record Holder (Class C) in the 200-yard dash in 1944. He competed athletically while in service. He played football and competed in track in college. He signed a minor league baseball contract with Chicago White Sox in 1950 and played for 2 seasons, before shattering an ankle.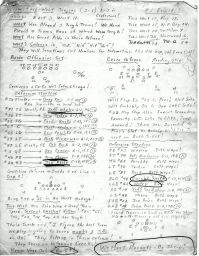 Speaking from a personal viewpoint, the Green Bay Packers had Vince Lombardi and Tosa East had John Richmond. He was in command of everything and you didn't wonder if he cared for the players, you absolutely knew it. For every game he prepared an incredibly detailed scouting report. These were more detailed than most college scouting reports. They were anywhere from 6 to 8 pages! Without even looking at a single detail, I was always in owe of the effort he put into them. But it wasn't the least bit surprising because it was obvious he put in that kind of effort in every aspect of coaching.
Richmond was known for his many sayings which were known as Richmondisms. In track where almost all coaches would hold out the watch and yell out splits as the kids run by the finish line - "59! 60! 61! 62! 63! C'mon! 66! 67! Not Richmond. He'd stand there and yell out splits as only he could. "MONDAY! TUESDAY! WEDNESDAY!!" In football it was always, "Get the lead out!" And it is seared in my memory how every football practice started by running a few laps when Richmond would yell, "Take off, you turkeys!"
For our senior year, we shared the '75 Football Suburban Conference title and in track won both the Suburban Conference Relay and Outdoor titles.
One final memory I'd like to share is about a football game in 1974, our Junior year. It was that year that they modified the schedule to include one non-conference game. It was the very last game of the year on a bright sunny Saturday against New Berlin Eisenhower on their field. I remember getting on the field before the game and looking over at our unknown opponents and it didn't look good. Their players were huge and, frankly, looked like we were about to play a college team! Later Coach Richmond admitted to us that his first reaction was one of horror. "What have I done? What was I thinking scheduling this game? We're going to get slaughtered!" I can only wonder what the Eisenhower players were thinking looking over at the puny likes of our Tosa East football players.
It was only a few plays into the game when we learned the Eisenhower coaching strategy was simply to find the largest players possible. They were so slow! After racking up a few touchdowns against them I actually started to feel sorry for them. They had to wonder, "What is happening?" We went on to win that game 35-0.
Forward to about 3 years ago when I met up with Coach Richmond at Grace Morgan's memorial service when I got to ask him for his memory of that game. Without missing a beat, he starts. "The first play was a handoff to Tom Harwood up the middle and he gets stuffed (i.e., no gain). The next play Joe Zuba tries for a pass up the middle and it got swatted down. On third down he rolls right and decides to run rather than throw. He then proceeds to run into the end zone leaving a comical trail of fallen bodies behind him." Here he was at age 87 and could still remember it in detail!
You can read about all of John Richmond's coaching career from the account written about him when he was inducted into the Wisconsin Football Coaches Association Hall of Fame: http://www.wifca.org/news_article/show/141569?referrer_id=480362
RIP, Coach Richmond. You will never be forgotten!