45th Reunion Info
We are pleased to announce that we will be hosting a 45th reunion for our class. Look to this page for all updates for the event. In March of 2020 we sent out a poll to query the class about a possible 45th reunion. Though there wasn't enough enthusiasm for a full formal event, there was for an informal one. This has simplified things considerably. Although there is still some concern about COVID-19, the CDC guidelines are clear that an outdoor event is safe. Having said that we do acknowledge there will be some classmates who not be comfortable with any get together so won't participate and we should all respect their opinion.
Save The Date: September 18, 2021
We sent out a follow up question to the class as to which weekend would work between July 24-25 to October 2-3 and by a good margin the weekend of September 18-19 was selected. The venue of Hoyt Park was overwhelmingly preferred in the original poll.
We have reserved Picnic Area 2 in Hoyt Park for our scheduled get together for 4:00PM thru at least 8:00PM. A great aspect for this venue is the close proximity of the pool area, now known as the TOSA Pool at Hoyt Park. This offers us a number of amenities: 3 concession stands (with 2 different menus), a stage which will have music from 5-8 that evening, 50 large picnic tables, and restroom facilities. Of course, in the picnic area it is wise to bring your own food and drink, but it is great to have this alternative. After sundown we will migrate over to The Landing area where there is lighting and picnic tables.
Details and Miscellaneous
Weather can be an issue. If it looks like it might rain we are asking for anyone who has one to bring a tent. However, staking is not allowed.
Because we have a permit for our picnic area, we are allowed to have beer (cans or bottles) at our picnic site so bring what you'd like. This also means that you can also purchase beer at The Landing and bring it back to the picnic area.
There are no longer grills in any of the county parks, but you are permitted to bring your own. There is a container available on our picnic site for disposal of hot coals, although they do request that they be dowsed in water beforehand.
It might be a good idea to bring camping chairs and possibly camping tables.
Amplified music is not permitted. But we will probably hear the sounds of the band from The Landing as the stage is fairly close. But it won't be too loud because those bands don't play very loud and the stage is pointing away from our picnic area.
Parking is available along Menomonee Pkwy or in the Hoyt Pool parking lot.
Here is a link to the Milwaukee County Park picnic policies.
This is free event! That means the only cost to our classmates will be for their own food and drink. The only hard cost is the picnic area reservations and that has been donated.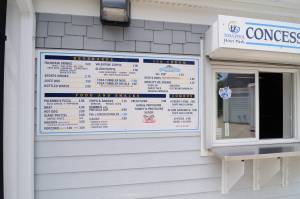 To the left is a photo of one of the two concession stands that serve both the pool area and the outside areas. There is one on the women's side and the other on the men's side. Note: there are no alcoholic beverages! You will need to go to The Landing concession for those items.
Click/tap here to see The Landing menu which includes beer and wine.
We have a whole page dedicated to the Hoyt Park venue which you can see here.
As updates become available and other get togethers decided, we will update this page, but also look for announcements to the Google Group.
What's An Informal Reunion?
To answer that question it is helpful to define a Formal Reunion. That is the typical reunion where there is a lot advanced planning. We rent a hall, provide a meal, hire a bartender, and sometimes hire a band or disc jockey for entertainment. All of this incurs a cost which can be considerable which in turn requires we charge a fee to those attending. For the 20th and 25th reunions they were held at hotels while the 30th and 40th were held in the Mueller Building at Hart Park. A huge issue a formal reunion becomes the problem of numbers. We need to predict ahead of time the approximate attendance as that will dictate the size of the venue and the amount of food we need to purchase.
George & Amy Karioris, Eileen Keyes, Gene Hanson, Barb Schroeder, and Juliana Spring at The Landing in 2016
An informal reunion is one where we simply providing a gathering place (usually public venues) and decide on date and time. There is no need to know exactly who's coming although it is always great to know. The whole class is invited and whoever can make it, make it. There is no obligation and can literally be a last minute decision. Every formal reunion has at least one other informal activity such as:
Tosa Fest
Tosa East tour
Colonel Hart's (Pep's Place)
Summerfest
Hoyt Park
In other words an informal reunion is simply a formal reunion without the formal event.